Press Contact
Contact Name: Insea Landt
E-Mail: robotheartlab@gmail.com
Link to request keys: https://www.robotheartlab.com/donate-or-preorder

About the game: INU - A Glimpse of Infinity
"INU - A Glimpse of Infinity" is an innovative gaming experience that connects fundamental game mechanics and core emotions to encourage a state of flow and help regain emotional balance. The experience takes place in the infinite world of fractals, is completely individual, and does not follow a predefined storyline .
INU uses the language of color, shape and sound to communicate with the user. Each primary color represents a core emotion that is linked to a corresponding game mechanics. So, you can literally play what feels right in the moment.

About the company: RobotHeart Lab
Developer couple and indie game studio in formation from Leipzig, Germany.

We want to make the world playfully more aware of emotions and their impact on how we perceive our reality.


Logos
Company Logos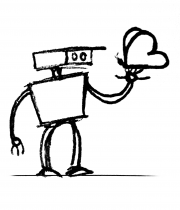 Game Logos