Soulborn

by Pixelmad Studios
Press Contact
Contact Name: Alexander Lorenz
E-Mail: alex@pixelmadstudios.com
Developer PressKit: presskit.pxlmds.com
About the game: Soulborn
If you mix Zelda and The Witcher you will get SOULBORN; a story driven open world RPG-ADVENTURE based on exploration, combat and character development. The world is inspired by the NORSE MYHTOLOGY and shaped by conflict between humans living in the absence of the fallen gods. Play on the side of Thor's mighty hammer MJOLNIR which came to life and TRANSFORM into different weapons and creatures to support your journey. Level up your character, fight against a lot of different enemies, solve DUNGEONS & PUZZLES and master your abilities to defeat the ultimate beast Nidhöggr and stop the RAGNARÖK. Explore a vast OPEN WORLD, secret places and interact with fully immersive breathtaking environments. Discover UNIQUE REALMS and their thrilling inhabits.
About the company: Pixelmad Studios
Pixelmad Studios is small indie-game-developer company with around 15 ppl who are actually working on soulborn. We decided to only work on projects we like and create games as a gamer to let gamer enjoy the game.
Logos
Company Logos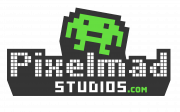 Game Logos