Press Contact
Contact Name: Paul Milewski
E-Mail: paul.milewski@wiretapmedia.net, press@artifexmundi.com
Developer PressKit: https://smarturl.it/hsb_presspack
About the game: Hot Shot Burn
Hot Shot Burn is a top-down, hilariously violent party brawler where space gladiators compete in the galaxy's ultimate televised blood sport. Grab some popcorn, invite up to 4 friends, and experience crazy couch battles full of ridiculous flukes and insane skill shots.
Can't invite friends to come over? No problem!
Just set up a game night and seamlessly play online.

Pick your hero, from ass-whooping space wrestler to deadly moth assassin to one very confused fluffy alien. Each character has unique skills and play styles, so find your match and get ready to explode your friends and loved ones for a galactic audience of screaming fans.

- Fast-paced, unpredictable multiplayer action for 2-4 players
- Play on the couch, online, or both!
- Loads of arenas, each with unique hazards and rules
- Feel the effects of powerful mutators that can warp reality and turn a match on its head.
- Vibrant art style inspired by Saturday morning cartoons
- Powered the thumping tunes of SYNTHWAVE!

About the company: Flaming Flamingo - by Grzegorz Dalek, Sarin Suriya
Artifex Mundi is a team of 100 talented people, dedicated to creating amazing worlds. We proudly carry the name of one of the leading adventure games developers and publishers, with over 50 titles across all gaming platforms (mobile/Steam/PC/consoles) and countries. We're always ready for any new challenges including new premium games in brand new genres.
Hot Shot Burn is being developed by a studio created within Artifex Mundi and called Flaming Flamingo !
Logos
Company Logos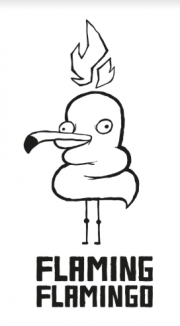 Publisher Logos Game Logos