Press Contact
Contact Name: Sophie Schiaratura
E-Mail: sophie.schiaratura@fishingcactus.com
Developer PressKit: https://drive.google.com/open?id=1bvkHfgegGRb29cqfLkOVEdXte2cHH6Fe
About the game: Nanotale - Typing Chronicles
Something is wrong with the heart of magic. Play a young archivist venturing out into a dying world, cataloging its mysteries and its wonders to unearth the truth. Nanotale is the new atmospheric typing adventure RPG from the Typing Chronicles franchise and the spiritual successor to the acclaimed Epistory.
About the company: Fishing Cactus
Fishing Cactus is an independent games developer composed of 20 individuals. Based in Mons, Belgium, the company's aim is to showcase their originality and ability to thrive in a nation without many game development studios. Fishing Cactus is the maker of the rated overwhelmingly positive on Steam and awards winning game Epistory - Typing Chronicles, an atmospheric adventure folded in an origami world.
Logos
Company Logos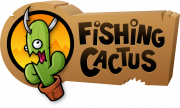 Game Logos