Press Contact
Contact Name: Eirik Leganger Nergård
E-Mail: eirikn@funcom.com
Developer PressKit: https://www.dropbox.com/sh/yne1iy1b67fcofe/AACc6gQlo02-g9fi2tXUl0kOa?dl=0
About the game: Conan Chop Chop
Conan Chop Chop is a 1-4 player action-adventure game with rogue-like elements, set in the savage world of Conan the Barbarian. Venture forth in a world full of strange and wondrous creatures… and bash 'em all to bits! Fight, loot, quest and explore as you strive to become the baddest badass of all time.

The treacherous wizard Thoth Amon has devised a plan to resurrect the ancient evil that is Xaltotun. If he succeeds, he will condemn the world to an eternity of darkness and enslavement. Only you can stop him, but in order to do so you must use all your cunning. All your guile. You must summon all your courage and swordsmanship. You must ... Chop Chop!

Conan Chop Chop is the most epic and realistic stick figure game ever to be set in the world of Conan the Barbarian, thus there will be an excessive amount of gore and flying limbs. Be warned that this may in turn lead to uncontrollable outbursts of joy and/or profanities, usually depending on which end of the
sword you are on.
About the company: Mighty Kingdom
ABOUT FUNCOM - Funcom is an independent developer and publisher of online games for PC and consoles. Funcom has provided outstanding entertainment since 1993 and continues to expand its track-record of more than twenty released games. Titles include 'Conan Exiles', 'Secret World Legends, 'Age of Conan: Hyborian Adventures', 'The Longest Journey', 'Anarchy Online', 'The Park', and 'Dreamfall: The Longest Journey'. For corporate information please visit www.funcom.com. For information about Funcom games visit www.conanexiles.com, www.secretworldlegends.com, www.anarchy-online.com, www.dreamfall.com, www.theparkgame.com, www.conanexiles.com, or www.ageofconan.com. Funcom is listed on the Oslo Stock Exchange under the ticker FUNCOM.

ABOUT MIGHTY KINGDOM - Mighty Kingdom delights more than 7 million players every month. We design game experiences from the ground up for brand partners such as LEGO, Disney, Moose Toys, KitCatCo, and more. Our portfolio of original and licensed games are all crafted in our Adelaide studio, by a team with over 100 years of combined experience across game development, film production, illustration, music, and theatre. Led by a desire to engage and delight players, we make emotional experiences that connect our diverse talent with millions of people around the world. We love fun. We want to share it with the world. We want you to be a part of it.
Logos
Company Logos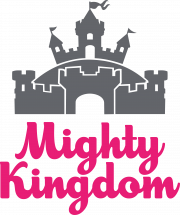 Game Logos