Press Contact
Contact Name: Stéphanie BEAUDOIN
E-Mail: stephanie@dearvillagers.com
Developer PressKit: https://dearvillagers.com/wp-content/uploads/sites/10/2019/08/Scourgebringer-PressKit.zip
About the game: ScourgeBringer
Set in a post-apocalyptic world where a mysterious entity wreaked havoc on all humanity, ScourgeBringer puts you in the shoes of the deadliest warrior of her clan: Kyhra. Help her to explore the unknown and slash her way through ancient machines guarding the seal of her past, and maybe the redemption of humanity.
About the company: Flying Oak
We are Flying Oak Games, a team of two passionate indie designers. We love making action games and being close to our community. We made the explosive twin-stick rogue-like NeuroVoider, but ScourgeBringer is going to be our biggest game yet!
Logos
Company Logos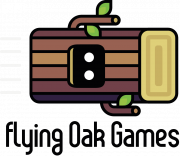 Publisher Logos

Game Logos