Press Contact
Contact Name: Tom Kelly
E-Mail: pr@heroblocks.com
Developer PressKit: https://drive.google.com/open?id=1XDK_Uv8fnQ9mVmdC2kLNZsOs-M0eLAhK
About the game: MAD MACHINES
Get up, get loud and make your mechanical mommas proud as you use your precision engineering to its fullest in order to solve humanity's greatest problem - how to get a ball into a goal.

Take control of one of three unique Machines and use your weapons, your wits, and your wile in order to get the Spikeball around - or simply straight through - your opponents in order to smash the goalplate and score points. Take advantage of the unique momentum-based precision physics system to perfectly aim your swings and send the Spikeball in a perfect arc that'll bring tears to your robotic eyes. Gain a huge lead or close the gap with difficult two and three-point shots to show your engineering expertise to all that oppose you in the arena!
About the company: Hero Blocks ApS
Our game studio is located on the west coast of Denmark and was founded in 2015. We like games. And we really like games that go the extra mile in regards to gameplay, feel and look. We like mixing genres and our wacky brains guarantee gamers a different gaming experience. We are excited to sharing our ideas and games with you!
Logos
Publisher Logos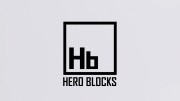 Game Logos