Press Contact
Contact Name: Frank Meijer
E-Mail: frank@utomik.com

About the game: Away: Journey to the Unexpected
A COLORFUL first-person adventure game that combines action, negotiation, and ROGUE-LITE ELEMENTS!

Progress through the levels and the story, choose your path, but above all, recruit allies.
All the strange characters you meet ingame can be played in first person, and it's up to you to find the right answers to get them to join your team!

Idiotic workmen, MYSTERY FROM OUTER SPACE, ODDBALL FRIENDS, AND FAST COMBATS AWAIT!
About the company: Aurelien Regard Games
Utomik offers an easy way to play and discover your next favorite games. Get instant access to a varied collection of AAA classics, retro, indie, and family-friendly titles. With our smart download tech you get into games up to 10 times faster than normal.
Logos
Company Logos

Publisher Logos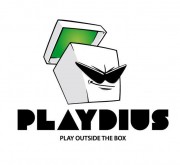 Game Logos