The Murder Hotel

by Wegenbartho Games e.K.
Press Contact
Contact Name: Maximilian Abstreiter
E-Mail: maximilian@wegenbartho-games.com
Developer PressKit: https://drive.google.com/drive/folders/1rLdgyUU3c_APP9mmUk3Jbk0f7zNWGpyi?usp=sharing
About the game: The Murder Hotel
An interactive Murder Mystery Adventure where a Dream Demon manipulates you into solving twisted crimes.
Interrogate suspects, search for clues, & uncover a dastardly plot, as you solve a string of mystifying murders to help reluctant detective Ilmarinen escape the foreboding Fafnir Hotel.
About the company: Wegenbartho Games e.K.
A small Bavarian indie game studio focusing on story-driven games that incorporate various German fables and tackle classic literature. Currently working on The Murder Hotel and The Donnerwald Experiment.
Logos
Company Logos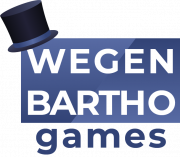 Game Logos