Press Contact
Contact Name: Daniel Postlethwaite
E-Mail: press@slugdisco.com
Link to request keys: https://forms.gle/KTfgirjUnWqMkX8H9
Developer PressKit: https://horticulargame.com/press/
About the game: Horticular
Horticular is a relaxing garden-builder that begins with mysterious gnomes summoning you. Their wish? For you to breathe new life into a long-lost garden, abandoned by its previous caretaker.

Enter a magical world where you build up and expand a lush garden at your own pace. In your journey, you attract adorable animals to inhabit every corner; uncover helpful upgrades; and assist quirky characters for rewards and story development—all while juggling decay and fending off corruption sent by your nemesis!
About the company: inDirection Games
inDirection Games was founded by me, Robert Kaufmann, as a means to develop games that dare to be different. I have since long dreamt of finishing at least one game that I could take pride in. In early 2021, I made the opportunity to follow that dream.
Logos
Company Logos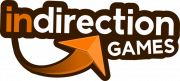 Publisher Logos

Game Logos