About the game: Tavern Talk
Play the tavern owner, the most beloved NPC of every RPG ever made.
Listen to stories of boasting glory and utter failure. Pick up rumors, gather quests, for your guests to embark on. Make sure they come back alive by mixing them the right potions.
Uncover the truth about an old evil that threatens the land. Will you pull your strings and save the day?
Tavern Talk is a 2D barkeeper talking simulator in a high fantasy setting with PnP humor and lots of hints at DnD.

About the company: Gentle Troll Entertainment
Gentle Troll Entertainment is a small indie studio located in Germany that was founded in 2014. We are very experienced Unity developers with a Serious Games background. We have shipped more than 20 educational games of various genres that were developed for PC, web, and mobile in collaboration with high-profile industry clients. Now, we want to develop games for the entertainment market, starting with Tavern Talk which will be self-published.
Logos
Company Logos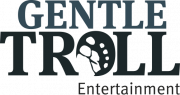 Game Logos