Press Contact
Contact Name: Bogdan Iliesiu
E-Mail: pr@angrymobgames.com
Link to request keys: pr@angrymobgames.com
Developer PressKit: https://drive.google.com/drive/folders/1M--q11msRu3gWZrft6-emfZw0jcUT4xk
About the game: Trinity Fusion
Trinity Fusion is a Rogue-Lite action platformer set in a sprawling, doomed multiverse. Trinity Fusion takes the genre to new heights by combining exciting, high-paced combat built upon a strong, immersive narrative story foundation.
About the company: Angry Mob Games
Angry Mob Games is an indie game studio based in Romania. Its most recent title is Brawlout, a party fighting game released on Xbox One, Nintendo Switch, PlayStation 4, and PC in 2018. Prior to that, Angry Mob Games developed and released well-received mobile titles in the Aliens and Predator franchises, as well as its own IPs.

Logos
Company Logos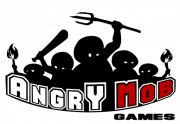 Game Logos