Press Contact
Contact Name: Rachel Macpherson
E-Mail: rachel@neonhive.co.uk
Developer PressKit: https://drive.google.com/drive/folders/1awNMqvquHaUAiqajoJhgFE2IhqbCsZKD?usp=sharing
About the game: Fruitbus
A journey of flavours and friendships await players in Fruitbus. Explore a new open world where taste is everything in your fully customisable food truck; create new dishes and feed new friends to unlock unique stories and memories; and forage for fresh ingredients to feed tummies and souls with an abundance of home-cooked meals. Build the food truck of your dreams, hit the road and set off on a journey to change the world, one apple at a time!

About the company: Krillbite Studio
Krillbite Studio is an independent game developer who loves storytelling and creating engaging experiences. The studio was founded back in 2011, when the team were still students, and has since evolved into seasonal developers with a catalogue of award-winning titles. Common to all of our games is our desire to explore the gaming medium, and to inspire both new and experienced players alike. Our most known titles are Among the Sleep, Mosaic, and Sunlight.
Logos
Company Logos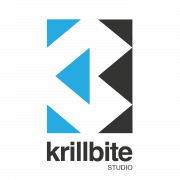 Game Logos