Press Contact
Contact Name: Yaroslav Kadyshev
E-Mail: yaroslav@criticalreflex.com
Link to request keys: yaroslav@criticalreflex.com
Developer PressKit: https://drive.google.com/drive/u/1/folders/1hpVhg_aOHLSm90xoMrFrbhT_SLIcoplQ
About the game: Freaked Fleapit
Rhythm Dungeon Crawling Roguelike - Freaked Fleapit is a one-of-a-kind mix of rhythm-based dungeon crawler (seen in games like Crypt of the NecroDancer), and roguelike elements similar to Binding of Isaac and Enter The Gungeon.
Romance System - try your best to get along with the lovely Ladies of the FLeapit by compleint sidequests, presenting gifts and preparing devilishly delicious drinks for them in various mini-games!
About the company: Finch Bird Studio
The Finch Bird Studio team is ready to turn the genre of music video games on its head! Modern multimedia capabilities allow us to take this genre to a whole new level. Full synchronization of the gameplay with modern electronic music, the use of psychoacoustic techniques in sound design and well-tuned animation allows us to create games with an unforgettable feeling of a flow state.
Logos
Company Logos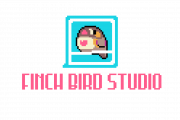 Publisher Logos
Game Logos