Press Contact
Contact Name: Stéphanie Beaudoin
E-Mail: press@dearvillagers.com
Link to request keys: press@dearvillagers.com
Developer PressKit: https://press.dearvillagers.com/passing-by/
About the game: Passing By - A tailwind journey
Take to the skies in your balloon ship and explore a colorful world of floating islands. Befriend fellow travelers and quirky islanders, use your wits to solve immersive puzzles, and gather resources to continue your journey towards an unknown destination.
About the company: Studio Windsocke
Studio Windsocke is a young indie studio based in Hallstadt, Germany, which was founded by four passionate game developers in 2021 with the goal to create meaningful games with a wholesome and whimsical atmosphere. Currently, the team is working on Passing By - A Tailwind Journey, a charming adventure combining typical elements of puzzle platformers and survival games. In 2021, the game won both the "Young Talent Award: Best Prototype" at the German Computer Games Awards and the "Ubisoft Newcomer Award" at the German Developer Awards.
Logos
Company Logos
Publisher Logos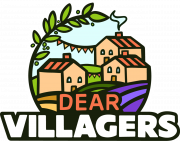 Game Logos