Press Contact
Contact Name: Xavier Stambaugh
E-Mail: pr@akuparagames.com
Developer PressKit: https://www.akuparagames.com/game/cryptmaster/?presskit=1
About the game: Cryptmaster
Cryptmaster is a dungeon-crawling narrative adventure with a nostalgic visual style about a party of recently awakened dead heroes. An eccentric figure, known as the Cryptmaster, has tasked you to journey upwards through the strata of several fantastic underground kingdoms. Along the way meet a myriad of quirky characters, find cryptic puzzles, and combat classic enemies all by typing out your actions!
About the company: Paul Hart & Lee Williams
Paul Hart is a programmer and artist with a great deal of experience in the games industry, having previously worked for a number of large studios including PikPok, Creative Assembly and Facepunch. Lee Williams is a writer and narrative designer who has worked on games published by Ubisoft, Epic, Nightdive and Choice of Games, among many others. His most recent writing credit was for Valheim. This is Paul and Lee's second collaboration, having previously worked together on Fistful of Gun.

Logos
Company Logos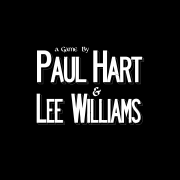 Publisher Logos
Game Logos