Press Contact
Contact Name: Tomoko Miya
E-Mail: miya@flamebaitgames.com
Developer PressKit: https://www.flamebaitgames.com/presskit/
About the game: Passpartout 2: The Lost Artist
Embark on your struggling artist adventure. Draw and sell art to cheeky critics to reclaim your lost art career. Explore the endearing art-starved town of Phénix and show them you're a true artist!
About the company: Flamebait Games
Flamebait Games is a small award-winning game studio focused on delivering strange and charming games to the masses.
Logos
Company Logos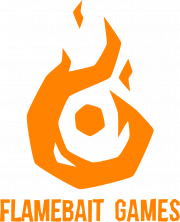 Game Logos