Press Contact
Contact Name: Ame Searle
E-Mail: ame@tripletopping.com
Link to request keys: Demo up on Steam
Developer PressKit: http://www.deadpetsunleashed.com/press/
About the game: Dead Pets Unleashed
Struggling punk band, Dead Pets, are still looking for their breakthrough after almost 10 years. Gordy has big plans for the group, but when you turn 30, life starts to get in the way. Dead Pets Unleashed is a narrative, slice of life and management-lite game; get ready to unleash your inner demon.

About the company: Triple Topping
Triple Topping is a female run studio based in Denmark, making games with unique stories. We have released Spitkiss, Ynglet, and Welcome to Elk and are currently working on Dead Pets Unleashed.
Logos
Company Logos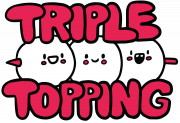 Game Logos