Press Contact
Contact Name: MIYUKI MIYAZAKI
E-Mail: miyuki@wss.tokyo
Developer PressKit: https://drive.google.com/drive/folders/1aNZ0Tuezs1JcmGBkPKIqAcGupX4_w9Z6
About the game: EDEN.schemata();
EDEN.schemata(); is a multi-ending sci-fi mystery adventure game, featuring headless corpses, a sealed laboratory, a limbless android suspect/heroine, and an amnesiac protagonist. The game design and gradually UI change in reflection of your actions.
The steampunk-style artwork and the character animations were all handled by a single animator.
About the company: Why so serious,inc.
We handle game productions, game development for advertising and sales promotion of products, planning of media/live broadcasts/events, and consulting services such as project designing, etc. We do almost everything related to entertainment with a focus on games. Please feel free to consult us.
Logos
Company Logos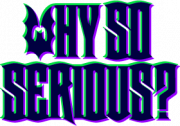 Publisher Logos
Game Logos