Press Contact
Contact Name: Conor Bradley
E-Mail: conor@softleafstudios.com
Developer PressKit: https://drive.google.com/drive/folders/1xPk6k3SoaIQc7iTuUpSqF1t9B_mhwsrF?usp=sharing
About the game: Stories of Blossom
An accessible point and click adventure that joins Clara as she brings to life three short tales told by her nurturing grandfather. Embody the role of an adventurer, astronaut, and pirate. Explore 25 colourful storybook illustrations, from the sunny countryside, to an unexplored planet full of little fungi people. Befriend cute creatures in odd situations. And help solve all their problems along the way.

From the very beginning game accessibility has been our main goal. We have work closely with those from the disabled and neurodiverse communities to help us remove barriers from our game. A lot of this work has been baked into the experience itself such as the readability of each dialogue line, the design of our puzzles, and how we layout information and our menus. We also have a large array of accessibility options, that you can use to tweak the experience to your liking.

About the company: Soft Leaf Studios
At Soft Leaf Studios we strive to develop accessible game experiences that everyone can enjoy. We work closely with those from disabled and neurodiverse communities to help remove barriers from our games and to help raise awareness. Our hope is that by doing so we can make the future of games accessible.
Logos
Company Logos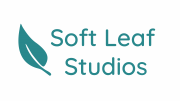 Game Logos