Press Contact
Contact Name: Robert Clarke
E-Mail: robert.clarke@tinybuild.com
Developer PressKit: http://bit.ly/crittermediakit
About the game: Critter Cove
Dive into the world of Critter Cove, a life simulation game where you rebuild an island town
alongside a huge cast of charming townsfolk. Set sail and explore a vibrant and mysterious
archipelago. Discover relics, craft items, and make new friends. Your new life in this cozy island
paradise awaits!
About the company: Gentleman Rat
Logos
Publisher Logos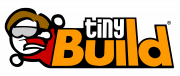 Game Logos